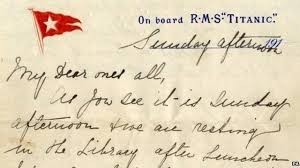 THE last letter ever written on board the Titanic ocean liner is to go on display in Belfast today.
It was written by Esther Hart and her daughter Eva just eight hours before the ship struck an iceberg while on en route to America.
The letter sold at auction last year for £119,000.
It's being loaned to Titanic Belfast for five years as part of exhibition on the ship
The letter is being loaned to Titanic Belfast by Scottish businessman Garreth Wood, who bought it at an auction last year.