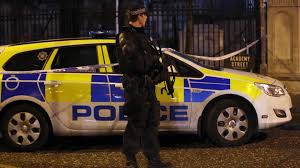 POLICE say an arrested man struck by a car in an alleged attempted hijacking has suffered a suspected broken leg.
They say that a male was armed with an imitation firearm when he stepped in front of a car on North Street, Belfast, at about 8.30 pm last night.
The man was arrested at the scene on suspicion of attempted hijacking, possession of a firearm in suspicious circumstances and disorderly behaviour, and taken to hospital for treatment.
Meanwhile the driver was spoken to by officers.
Police have appealed for anyone who witnessed this incident to contact them on the 101 emergency number .