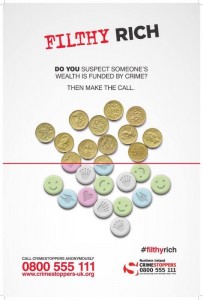 THE PSNI in North Belfast and charity Crimestoppers today launched its filthy rich campaign in a bid to tackle criminality in the area.
North Belfast Area Commander ,Temporary Chief Inspector Gavin Kirkpatrick said: "Police in North Belfast are committed to working with local communities to tackle the issues that are impacting on community safety.
"Criminality such as drug dealing can have a devastating impact on communities. When people become addicted to drugs they turn to all sorts of methods to fund their habit and this can lead to an increase in crime.
"Information plays a key role and it can help to ensure that police resources are targeted in the right direction.
"I would ask that if you know someone who is making a living through manufacturing or dealing in illegal drugs to contact either ourselves or Crimestoppers anonymously."