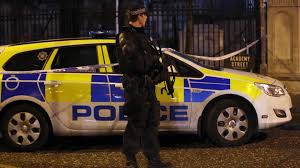 DETECTIVES are investigating a suspected loyalist paramilitary style punishment shooting.
It happened in the early hours of this morning, March 17, at Dunluce Road in Bushmills.
Police say officers received a report at around 12.30am that a man in his 30's had been shot a number of times in both legs as he sat in his car.
It was reported that a number of masked men were involved in the incident.
The injured man was taken to the Causeway Hospital to be treated for injuries which are not thought to be life threatening.
One theory detectives are working on is that the shooting is the result of an ongoing internal feud within the UDA's North Antrim Brigade.
Detective Sergeant Ryan Brennan has appealed for anyone with any information to contact CID in Coleraine on 101. Information can also be passed anonymously through Crimestoppers on 0800 555 111.