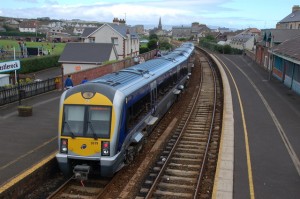 POLICE are urging school children to stay off train tracks if they value their lives.
The PSNI said its neighbourhood team in Greencastle received reports on Tuesday of this week around 4 pm that a "group of youths in school uniform were on the railway lines behind Loughshore Resource Centre on the Shore Road.
A police spokesperson said: "We cannot stress enough how dangerous this type of behaviour is, the consequences can be FATAL.
"There has been a considerable amount of Graffiti painted on to the Bridge Supports close to the Resource over the last few months obviously this also puts a number of people at great danger.
"Police are actively pursuing a number of leads relating to those involved.
"We can state that the Offence of Trespassing on a Railway Line carries a hefty Fine. The Criminal Damage Offence relates to the Graffiti being painted on the Bridges Supports and will also be actively investigated.
"The bottom line is COMMON SENSE has to prevail in relation to going on to, crossing or being near a busy rail line, it is not always possible to see or hear an approaching train until it is too late.
"Parents please be aware of where your children are and make sure they stay away from railway lines."