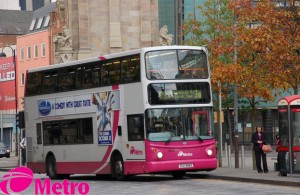 THE PSNI are lifting the restriction on motorists using bus lanes during the strike tomorrow, Friday, March 13.
Inspector Rosie Leech said: "In response to the exceptional circumstances and the additional traffic that may be on the roads as a result of the proposed public transport strike on Friday, 13 March, police will not be enforcing the bus lanes.
"However, all road users must use extreme caution if using bus lanes.
"Parking legislation and clearways will still be rigidly enforced, so motorists are NOT permitted to park in bus lanes.
"All road users must be particularly aware of cyclists and motorcyclists who normally share these lanes.
"Cyclists should also ensure that they are wearing hi-vis clothing and motorists should afford them space to make their journey safely.
"It's very important to also stress that this exemption does not apply where buses use the hard shoulder on the motorways, where there are contraflow bus lanes, or where there are bus lanes controlled by dedicated traffic signals."
Public transport will come to a standstill tomorrow as bus and train drivers follow other public sector workers onto the picket line to protest over wages and job cuts.
There will be a huge rally at Belfast City Hall around lunchtime and police are advising motorists to avoid the area because of expected traffic disruption.