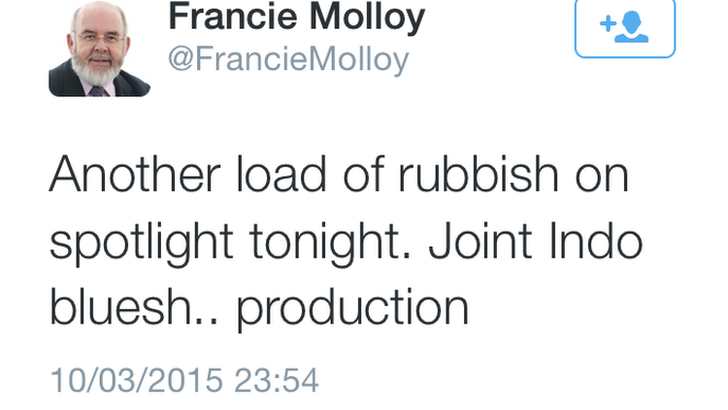 SINN Fein is fighting a rearguard action after Paudie McGahon said he was raped at his family Co Louth home by a senior IRA member.
Party president Gerry Adams has said this morning that the alleged perpetrator should now come forward.
But just hours before he made his RTE radio appearance, Sinn Fein MP and former RUC Special Branch informer Francie Molloy was dishing the programme.
Just less than an hour after the programme was aired, the former police agent tweeted: "Another load of rubbish on Spotlight tonight.
"Just Indo bluesh….production."
Party colleague and MLA Raymond McCartney said this morning on BBC Radio Foyle that Mr Molloy should apologise over his tweet.
Red-faced Molloy has now withdrawn the tweet from his Twitter feed.
Paudie McGahon was 17 when the alleged assault took place.
Mr Adams said he only found out about the incident in 2009 when he was told by Sinn Féin Louth TD Arthur Morgan.
Paudie McGahon spoke to the BBC's Spotlight programme and criticised how republicans had dealt with his case.
He told the programme he had grown up in a strongly republican household.
Mr McGahon said IRA members would use his family home often as a safe house.
He alleges that when he was 17, an IRA man, from a well-known republican family in Belfast, abused him and then threatened him to remain silent.
Mr McGahon told BBC Spotlight he was later subjected to an IRA "kangaroo court" after a Sinn Féin representative was told of the allegations.
He said the IRA offered to kill the alleged rapist but instead exiled him.
Recalling his experiences, Mr McGahon told the programme that when he tried to escape from his alleged rapist he was told if he ever opened his mouth about it anybody he would be found on the border roads.
He said he felt he could not report the matter to Irish police because of the threats he had received.
Mr McGahon said that for years, he told no-one about what had happened.
But in 2002, he said he broke his silence on the alleged abuse, and a local Sinn Féin representative was informed.
Mr McGahon said he was then subjected to an IRA 'kangaroo court' in his family home.
Mr McGahon also spoke to BBC Spotlight about the 'options' he says were outlined to him by the IRA.
"The first one was for them to deal with it – put a bullet in the back of his head," Mr McGahon said.
"It was said with such ease you knew that it wouldn't be a problem."
Mr McGahon said it was eventually agreed that the man would be expelled to England.
In a second meeting that he said he had with the IRA, Mr McGahon claimed he was told that the alleged perpetrator had admitted abusing not just him, but others too and that he had been detained by republicans.
Mr McGahon's claims follow similar allegations made by Belfast woman Mairia Cahill.
It is five months since Ms Cahill waived her right to anonymity as an alleged victim of sexual abuse to tell her story of how Sinn Féin and the IRA dealt with her claims that she had been raped by an alleged IRA man when she was 16.
Since then republicans have repeatedly questioned her version of events.
In the BBC's Spotlight programme, Mr McGahon claimed senior republican Padraic Wilson, 55, was involved in the kangaroo court meetings he said he was subjected to.
In a statement issued through his solicitor on Tuesday, Mr Wilson said he does not know nor has he ever met Mr McGahon.
Mr Wilson said he refuted the allegations made by Mr McGahon.
Mr Wilson said he he had previously offered to assist the garda investigation in an effort to "clear up this matter".