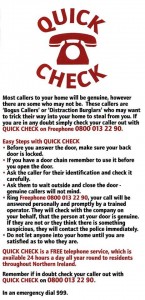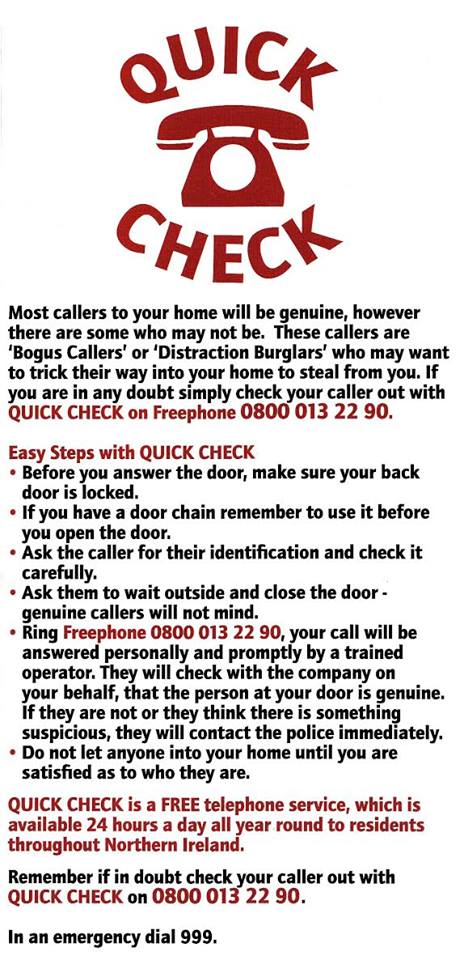 DETECTIVES are investigating an incident of 'fraud by false representation' involving an elderly lady.
Bogus callers had called to her home several times over the past week and she gave them a large sum of cash.
Police say that thanks to the quick-thinking of a family friend, who reported the incident to us yesterday morning, officers identified a car used by the suspects.
It was stopped by officers yesterday afternoon, the driver was arrested and follow-up searches were carried out.
Detectives in Dungannon continue to investigate several lines of enquiry.
Anyone with information that may assist with the investigation are asked to call detectives on the 101 non emergency number.
Police advise: "Please look out for your elderly neighbours, friends and relatives.
"Tell them to be cautious of unexpected callers, and not to open the door to someone they don't know.
"If someone does call to the door, their identity can be checked by phoning the freephone 'Quick Check' service on 08000 132 290. Genuine callers will not mind waiting outside while the phone call is made.
"Please report any suspicious callers to us on 101, or 999 in an emergency, and provide as much detail as possible of the callers, vehicles used, etc.
"If you would like further crime prevention advice, please phone your local Crime Prevention Officer on 101."