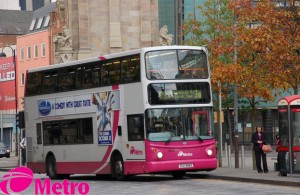 PUBLIC transport will come to a standstill this Friday as bus and train drivers go on strike.
Translink say there will be no scheduled bus or train services across Northern Ireland as a result of the stoppage.
Bus and train drivers from the Unite and GMB unions are joining the strike action by public sector workers over budget cuts and job redundancies.
Police say they will not be enforcing bus lanes in response to "the exceptional circumstances and the additional traffic that may be on the roads as a result of the proposed public transport strike".
Translink said it was contacting education boards to find out if schools are open on Friday and to discuss options for transport.
"I would like to apologise to all our passengers who will be inconvenienced by this strike action which is unfortunately beyond our control," Ciaran Rogan of Translink said.
"I think it is important to give people as much notice as possible in order that they may make alternative arrangements for travel on that day."
Services will return to normal on Saturday.
Between them, Unite and the GMB are estimated to have about 70% of public transport workers as members.
Around 50,000 school pupils use Translink buses.