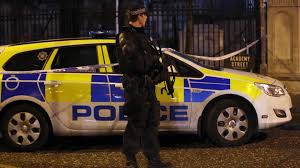 POLICE are at the centre of another 'missing' bomb alert.
The PSNI has brought in a special team to search for a device on Madams Derry's Bank Road.
This is just 12 days after dissidents attacked a gritting lorry crew in the area.
"Members of the public should not touch any suspicious objects in the area," said a PSNI spokesman.
Army technical officers are expected at the scene this morning.
Police and ATO will also used aerial platforms to scour the roads for the suspected device and possible further suspect devices.
A council worker was ordered to take a bomb to the PSNI station on Strand Road in the same area 12 days ago.
A gang threw an object onto the rear of the vehicle but the driver abandoned it rather than take it to the Strand Road.
Nothing was found in a follow-up search.
Dissidents are upping the ante on republicans with a hoax alert at a Sinn Fein office in the Rathmore Business Park just as the party's Ard Fheis.
Now the latest alert is set to cause huge disruption in the city – just two weeks after an alert in Currynierin when families were forced from their homes.