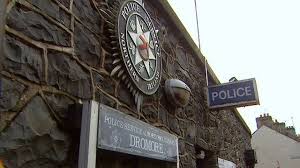 ARMY Technical officers carried out a controlled explosion on an incendiary bomb found in the grounds of Ballycastle police station in Co Antrim.
A second device also discovered during the security alert was later declared a hoax.
They were found in the grounds of the station on the Ramoan Road on Thursday morning.
A number of businesses close to the police station that had been evacuated have now been reopened.
The Ramoan Road has also re-opened to traffic.
Detectives are studying footage from the station's CCTV system in an effort to catch the bombers.