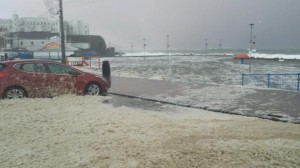 THE Met Office has issued a yellow weather warning for snow and ice across Northern Ireland.
A weather front from the west has brought in snow and icy winds.
Snow has been falling in some areas, including Glengormley Armagh, Ballymena, Ballymoney and Draperstown.
As a result, a number of roads have been affected.
Police have reported a number of crashes have been reported on the Mountain Road between Coleraine and Limavady.
Motorists are also finding the Glenshane Pass difficult to pass.
However, weather forecasters are expecting it to get milder during the afternoon.
But another weather front is bringing in strong winds on Monday night with gusts of 60-70 mph possible especially towards the north coast.
And large waves could come on shore with a risk of coastal flooding.