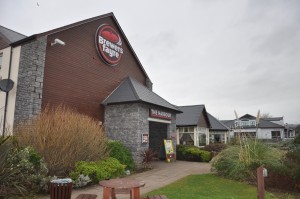 CAN a room costing from  £35-00 a night really be good? Our group travel editor Tim Hedgley finds out just how good a Premer Inn actually is.
I'm sure you know that old saying,  "you can't see the wood for the trees" as a travel writer, that can in many cases be very true.
I have lived in Carrickfergus for many years and I have never written about what this historic little town has to offer.
Carrickfergus was a major port long before Belfast and it has over 1000 years of war and peace steeped in its history. It boasts some of the finest Norman architecture in Europe and has a fantastic Castle which was built in the 12th century by John De Courcy.
I recently decided that it was high time I did feature on my home town.
The nearest hotel to the castle is the Premier Inn and attached to that is Brewers Fayre bar and restaurant. I have driven past those two buildings for quite some time but had (shamefully) never set foot in either of them. So off I went to book a room at the Premier Inn, well if its good enough for Lenny Henry its good enough for me.
I arrived at check-in at 12-30 pm an hour and a half early! I was quite rightly told, very politely that my room was not yet ready but if I wanted to pop into the bar I would be called as soon as it was.
This is just what one would expect from a great receptionist and I was duly shown towards the Brewers Fayre bar and restaurant.
Warm Greeting
I was greeted by a lovely member of staff called Karen Kavanagh. Karen asked me if I had been in the restaurant before and I explained I had not. "Oh well your in for a treat, you have come just at the right time, it's half term so it will be busy in here today sir," she explained. Karen asked if I wanted a drink and then explained the menu, showing me the offers and explained how to order food and then showed me where to collect a card to join the Brewers Fayre bonus club.  "It's a great scheme and well worth joining".
Unbelievable Prices
So I was set, I went to my table got a pint and read the menu. I actually thought I needed a trip to specsavers, two starters for £2-50 surely not and two main meals for £10-00?  But it was true.
I went to the bar and offered my paltry sum of money and waited. Five minutes later, I had a large bowl of soup, fresh ciabatta roll and butter and potato dippers with sour cream and bbq sauce. Perfectly cooked and very tasty and it was and all for £2-50!
Now the Brewers Fayre does exactly what it says on the tin, it provides quality food at extremely good prices in a family friendly environment.
And when I say quality foods we are talking premium brands such as: HP, Heinz, Quorn, Twinings Kellogg's, Costa, Alpro and Ocean Spray.
They are the brands that everyone wants. You know when you sit in a bar or restaurant and get a sachet of unknown brand brown sauce, we have all done it "Oh it's not HP, I wonder what this will be like? " Well Brewers Fayre think of everything, free coffee top up free soft drink top ups, free kids meals, all you can eat deals, its all there folks.
Amazing Food Choices
The Brewers Fayre looks after approximately 2000 customers a week and I am sure it's the good service and quality of food that keeps the customers returning. Most nights of the week from 5pm the restaurant runs a themed buffet, Mexican, Taste of Italy, Burgers & Hot dogs and Curry nights. And again it's priced to entice.
All you can eat for £6.99 you can add a couple of desserts for £2-50 as well.
Service in the restaurant is slick; plenty of staff on hand to ensure your meal is delivered swiftly and piping hot.
It's Busy, but service is slick
As I was visiting over the half term holiday, Pauline Connolly the General Manager, took some time out to explain just how busy Brewers Fayre can be.
"We are without doubt the busiest in Northern Ireland and we serve about 2000 customers a week, our customers know they get a great product at a great price and they keep coming back for more and more.
Our family orientated approach really helps too, the children's play area and free children's meals go a long way to reinforcing our commitment to those families."
Simple Aims
At Brewers Fayre their aim is simple – 'To serve guests the nation's favourite pub food, at great value prices, in a family friendly environment.'  And that's what they do, extremely well.
Brewers Fayre makes you feel comfortable and relaxed the moment you walk in the door.
I can call in, buy a coffee at £2.50 get free top ups, study all day, grab a light lunch for £2-50 and go home in a relaxed environment with happy staff and my out lay is £5.00.  It's no wonder people just keep going back for more!
Environmental Standards
Brewers Fayre are the first restaurant company to receive the prestigious Carbon Trust Triple Award for achievements in carbon, water & waste reduction.
Premier Sights Sleep Guaranteed
After about 25 minutes, I was called by reception who advised me my room was ready. So off I went to unpack my overnight bag for my first Premier Inn stay.
I have stayed in quite a few hotels, some have been literally the Ritz and the Savoy and some have been pretty dingy and dirty old places. But when I entered my Premier Inn room, I was deeply impressed.
My room was bright an
d air, super clean, and clearly this is a very well cared for property. Excellent lighting and a good quality TV and free Wi-Fi on all floors, in fact all over both Premier Inn and Brewers Fayre there was a free Wi-Fi facility.
You can upgrade to a faster Wi-Fi product for only £5.00 if you wish to stream movies. The bed was really comfortable, with quality linen's and nice duvets and wonderful pillows.
The bathroom was exceptional and medically spotless and as you will see from my picture, my taps were shining like the Malin Head lighthouse.
Premier Inn provide super-comfy, king-size Hypnos bed in their to hotels. Each mattress has a thousand pocket springs to keep you fully supported, and our cosy mattress topper with its thick, wool layer, helps regulate your body temperature. The Pillows hold the key to a great night's sleep and ensure you wake up feeling refreshed. That's why Premier Inn offer two types. You'll find the firm pillows on the bed, and softer pillows on top of the wardrobe.
There is little doubt in my mind that Premier Inn go above and beyond the call of duty when looking after their customers.
Interestingly they put their money where their mouth is and provide a money back guarantee. They're so confident you'll have a great night's sleep that if you don't, they give you your money back (T&C's apply).
Hardly surprising then that with rooms from just £35.00 they were voted Best UK Economy Hotel Brand and Best Worldwide Economy Hotel Brand for 2014.
Super Breakfast
After my great nights sleep it was back toBrewers for their legendary breakfast.
Yes its £8.95 and brilliant value, and your little ones can eat free (2 per adult)
So if you are a family of 4 you make a great saving, you call your breakfast, and eat as much or as little as you want.
Quality beans, sausages, bacon, hash browns, yoghurt's, fruit, mixed berries, fruit juices, breads it's all there for you to enjoy.
To book a Premier Inn  Click Here