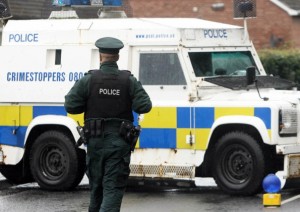 FAMILIES forced to spend the night away from their homes were the real victims of the dissident gangs, police have said.
A suspicious device was located by the PSNI last night.
Army Technical Officers are examine the scene of the incident in Currynierin today in Derry.
Police refused to let people return to their homes in Conway Park, fearing other 'secondary' devices could be in the area.
A tactic of dissidents in the past has been to leave other devices to cause maximum disruption.
SDLP MLA Pat Ramsey said those behind the incident would have to explain their actions to the community involved.
He said the incident was frightening for the families involved which included a young couple with five month old twins.
"This sort of behaviour is irresponsible and unacceptable and very frightening for the people who live in Conway Park," said Mr Ramsey who visited the scene.
This latest discovery has shown that violent dissident republicans in Derry have regrouped after almost a dozen members were jailed last year for bombing offences.