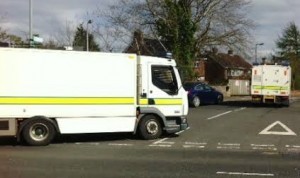 DETECTIVES from the PSNI's Terrorist Investigation Unit are investigating a possible link between after pipe bombs were found under cars in Belfast.
However, officers say they are keeping an open mind about a possible motive.
A pipe exploded under a car in St James Road in west Belfast last night.
At first it was believed damage was caused to a parked by a fire.
However, it wasn't until the car was moved that police found the remnants of an exploded pipe bomb.
A second pipe bomb device was found on a pavement in North Queen Street.
And a third was discovered under a car in Friendly Street in the Markets district of south Belfast close to the city centre.
The details emerged as officers were asked about a possible drugs link at the latest Policing Board meeting.
Deputy chief constable Drew Harris replied that the three investigations were at a very early stage and police were keeping an open mind about motive.
He said the police were not prepared to comment on claims of a possible drugs "turf war".
But Mr Harris said they were investigating the possibility of a link because the objects recovered from the three scenes looked similar.
He said the St James Road attack was thought to be a non-suspicious car fire at first, but a badly burnt device was discovered when the car was moved.
A number of residents were moved from their homes during all three alerts while bomb disposal officers examined the objects.
Police said a "viable pipe bomb-type device" was recovered during the North Queen Street alert, which ended shortly before 1.25 pm.
The St James Road alert ended about 2.30 pm and residents in both areas have been allowed back to the homes.