A TOP cop says  is to implement the "biggest shake-up" in policing in years over budget cuts and council bunny changes.
The PSNI are abolishing response teams which react to 80 per cent of calls from the public.
Response Teams (RTs) are being replaced by 'beat body' neighbourhood policing teams (NPTs)
The PSNI's budget was cut by £38m this year, and could be higher again next year.
The current seven policing districts will become 11 "leaner and more streamlined" districts to mirror the new council boundaries which come into place in April.
Assistant Chief Constable Stephen Martin, who is rolling out the changes, said: "What we're doing is developing a new model of policing to use our resources in the most efficient and effective way.
"This reorganisation will keep neighbourhood policing firmly at the core of all our service, when people need us we will be there.
"We're replacing them with neighbourhood policing teams, which, in our view in the new context that we face, will be more flexible, more agile.
"We're going to encourage officers to be more invested in the local community – all officers, not just neighbourhood policing team officers – will be expected to develop an ownership of particular geography."
He said that because the changes were being made at a time of budget cuts, the PSNI could not "simply replicate our existing district structures, taking into account our reducing resources".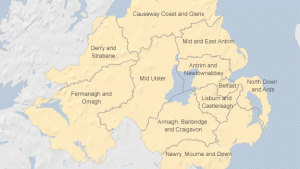 While, the overall number of neighbourhood policing teams (NPTs) will be cut back, ACC Martin said the police would be investing in local policing teams (LPTs) that will have a similar ethos.
The NPTs that remain are to be concentrated in areas that have higher levels of crime and deprivation.
"There will be a mixture of 25 local policing teams and over 30 neighbourhood policing teams across Northern Ireland as well as local detectives in each district," ACC Martin said.
"We recognise this represents a reduction to the current number of NPTs across Northern Ireland, however the LPTs are an exciting development."
ACC Martin said LPTs would employ "more policing with the community style than the previous response teams".