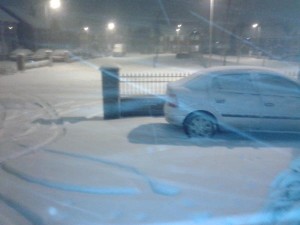 SEVERE weather and heavy snow across parts of Northern Ireland forcing 100 schools to close.
The snowy weather has caused major travel disruption to schoolgoers, taxi drivers and bus operators.
The worst affected by the weather has been Derry, Tyrone and Fermanagh.
Translink bus services in and out of Derry and Limavady have been suspended.
There is some disruption to buses in County Antrim and the Derry rail line.
A small number of staff at Derry's Altnagelvin hospital also had to stay overnight due to the bad weather.
The Rathlin and Ballycastle ferries have cancelled sailings for the day.
Taxi firms in Derry city centre have suspended all services.
Police have advised motorists to take care when travelling, particularly when driving on untreated roads.
In a statement, a Translink spokesperson said: "Due to adverse weather conditions, there is service disruption to Ulsterbus and Goldline services in the following areas: Ballycastle, Ballymena, Coleraine, Omagh, Cookstown and Dungannon.
"Bus services are currently suspended in Foyle and Limavady. There is some disruption to rail services on the Londonderry Railway Line.
"Metro services are currently operating as normal."
Translink advised passengers to check its website and Twitter account for the latest travel updates.