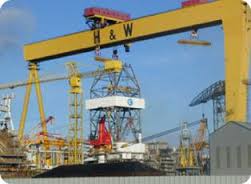 HARLAND and Wolff has won a major contract involving work on an oil rig due to arrive in Belfast this week.
The new multi-million pound contract will create work for around 1,000 contractors for a period of up to ten weeks.
The company is also recruiting 60 more permanent staff due to "strong performances in the offshore oil, gas and renewable energy sectors".
The rig, Byford Dolphin, previously underwent repairs in Belfast 10 years ago.
Director of ship and offshore unit repair, James Lappin, said: "This is a significant project for Harland and Wolff and for Northern Ireland.
"As well as employment opportunities, the supply chain within Northern Ireland will see significant activity in support of the project.
"In short, tens of millions of pounds will flow through the local economy."
Last year another rig, Blackford Dolphin, owned by the same company, was in the Belfast shipyard for six months.