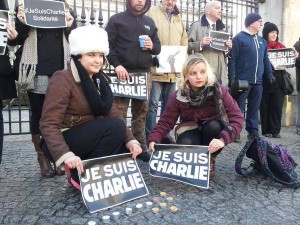 IT was a silent, peaceful and dignified – in stark contrast to the mayhem caused by three Islamic gunmen who slaughtered 12 people and injured a dozen more in Paris yesterday.
Today, trade unionists, human rights advocates and members of the public held up 'Je Suis Charlie' posters in solidarity with the 10 journalists murdered at the Charlie Hebdo magazine at lunchtime on Monday.
Two policemen, including the editor's bodyguard were also slain.
Cross party councillors also attended today's vigil in front of City Hall led by Lord Mayor Nicola Mallon.
She has been urged to open a Book of Condolence at the City Hall for people express their sorrow at the loss of lives in Paris
A number of newsrooms in Belfast also held a minute's silence at 11 am too as a mark of respect to their murdered journalist colleagues in Paris.