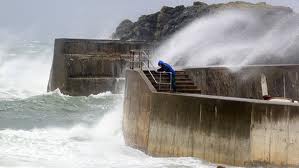 NORTHERN Ireland will be battered by a 'vicious' storm tonight with forecasters issuing a weather warning.
The full force of the storm could bring winds of up to 80mph, strong enough to close bridges across the province and cause damage to power lines.
The Met Office has issued a weather warning from 8 pm this evening until 10 am tomorrow.
But that won't be the end of it.
A further warning has been issued for this Saturday and Sunday – from 6am on Saturday morning until noon on Sunday.
"Heavy showers are likely across the warning area, these falling as snow at low levels across much of Scotland and Northern Ireland," said the Met Office.
"Within the area there could be localised small snow accumulations away from immediate coasts at low levels in the north, whilst over high ground 5-15 cm may occur in places.
"Temperatures will fall significantly during Saturday, this also posing the risk of ice where showers occur.
"The public should be aware of the potential for disruption, for example to transport and power supplies."