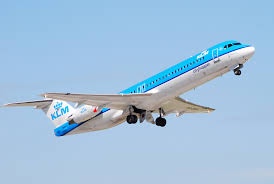 BY TIM HEDGLEY, GROUP TRAVEL EDITOR
ONE of Europe's largest airline groups, AIR FRANCE KLM, is to start operations from Northern Ireland.
George Best Belfast City Airport is the only airport in the UK or Ireland included in expansion plans announced today by KLM Royal Dutch Airlines who will commence a daily service to Amsterdam Schiphol Airport from May 2015 providing greater access to global destinations through KLM's extensive network.
Connectivity from Northern Ireland to South America, the Middle East and the Far East will be further strengthened through KLM's membership of the SkyTeam Alliance along with international airlines such as Air France, Alitalia, China Southern Airlines, Aeroflot, Korean Air, Middle East Airlines, Czech Airlines and Saudia.
Belfast City Airport's Commercial and Marketing Director, Katy Best, said:
"Attracting an airline such as KLM to Northern Ireland, is a major win for the airport, tourism within the region and local businesses who will benefit from KLM's worldwide network.
"KLM places significant emphasis on customer service and offers a product that is flexible, comfortable and desirable for each and every passenger making the airline a perfect fit for Belfast City Airport where continuously enhancing the passenger experience remains a priority."
With imports of goods from the Netherlands increasing in recent years and the country being one of the largest export markets in the EU for Northern Ireland manufacturers, this route ensures daily connectivity with major export and business markets identified by Invest Northern Ireland.
She continued:
"Schiphol is the linchpin of the KLM network, and as one of the busiest airports in Europe serving over 300 destinations, it is an attractive superhub with quick and easy transfer facilities for passengers on popular routes such as Los Angeles, Hong Kong, Singapore, Mexico, Moscow, Johannesburg and Bangkok.
"KLM's connectivity to many source markets will be particularly appealing to Northern Ireland for both business opportunities and tourism development.
"It is our aim to attract new airlines to Northern Ireland and to further develop our domestic and European route network through working with the government. KLM is the second big European airline to announce operations from Belfast City Airport in a matter of months after Vueling's decision to commence a service to Barcelona from May 2015, and I am delighted that both airlines have chosen to include Belfast City in their UK expansion plans."
Enterprise, Trade and Investment Minister Arlene Foster said:
"KLM is a welcome addition to the growing list of air carriers now serving Northern Ireland.  KLM's Amsterdam service will improve Northern Ireland's access to important business and tourism markets in Europe, North America, Asia and the Middle East.
"Air connectivity plays a crucial role in growing our economy and the access to a KLM service will provide global markets with help to ensure that Northern Ireland becomes even more accessible for those who wish to visit or do business here. I congratulate KLM on the establishment of their Belfast – Amsterdam service."
Niall Gibbons, CEO of Tourism Ireland, said:
"Today's announcement by KLM is really good news for tourism, as we kick off our 2015 promotional drive. Not only will it help grow visitor numbers from the Netherlands, but this new flight will offer connectivity from other important tourism markets, including North America, Asia and the Middle East.
"We look forward to co-operating with KLM to maximise the promotion of this new service from Amsterdam to Belfast. As an island, the importance of convenient, direct, non-stop flights cannot be overstated – they are absolutely critical to achieving growth in inbound tourism.
"Tourism Ireland is committed to working with KLM, Belfast City Airport and other tourism partners, through co-operative marketing, to drive demand for this new flight, as well working with other carriers and partners to promote and help maintain vital routes and services to Northern Ireland."
Professor Neil Gibson of the Ulster University Economic Policy Centre said:
"This is an extremely encouraging announcement for the Northern Ireland economy. Apart from the obvious benefits resulting from the link to a major business location it opens up connectivity to destinations much further afield.
"With the clear need for a small regional economy to generate increased exports the ability to market Northern Ireland as being globally connected via Amsterdam and London will be very compelling."
Seats on the Belfast City – Schiphol route are on sale as of 6th January.
For more information about Belfast City Airport and its route network, please visit www.belfastcityairport.com