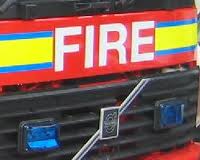 THE emergency services are still searching for an elderly man.
He has been unaccounted for after a fire broke out at a farmhouse in Annaclone, near Banbridge, in Co Down this morning.
Three fire tenders are at the scene and the NIFRS say they are likely to remain there for several hours.
They were called to the farm at Ballynafern Road around 7.20 am on Saturday.
Firefighters are still tackling the blaze.