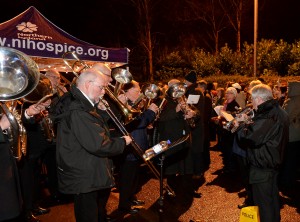 THOUSANSDS of lights are shining brightly on the Northern Ireland Hospice Christmas tree, dedicated in memory of lost loved ones, following the charity's special Lights to Remember ceremony.
Whilst Christmas is a season filled with joy and celebration, for many families it's also a very difficult time of year. The N Hospice Lights to Remember appeal offers an opportunity for people to come together in memory of those they have lost.
Now in its 20th year, the Lights to Remember appeal calls on the public to sponsor a light on the Hospice Christmas tree in memory of a loved one – a beloved child, mother, husband, close relative, or friend.
Families, nurses, doctors, staff and supporters of Northern Ireland Hospice gathered for the special remembrance ceremony at Dominican College, Fortwilliam on Thursday 18th December, before making a candlelit procession to the site where the new adult hospice is being built on Somerton Road in North Belfast, where the Christmas tree lights were officially switched on.
Andy Sims and his daughters, Amelia (4) and Ava (7) from Belfast switched on the lights, in memory of their wife and mother, Karen. The brave family made the decision to help the Hospice in honour of Karen, aged 40, who passed away at the Northern Ireland Hospice on 2nd September 2014, having been diagnosed with terminal cancer earlier this year.
Commenting after the Lights to Remember service, NI Hospice chief executive, Judith Hill said: In Northern Ireland, one in three people are touched by the care and support they receive from NI Hospice. This is only made possible by the generosity of the public in supporting appeals such as Lights to Remember.
"This Christmas, many people will be missing someone they have lost. Sponsoring a light on the Hospice tree is a special way to remember them, whilst supporting local people with terminal illnesses and their families.
"As we look towards the New Year, we move closer to realising our vision of rebuilding our adult hospice. We could never have reached this stage without our invaluable fundraisers and I would like to say a heartfelt thank you to each and every one of our supporters. With your help and generosity, we will open the new hospice in 2015, with the facilities we need to deliver first class care to the patients and families that need our help."
Northern Ireland Hospice cares for 3,000 adults with life-limiting illnesses and their families every year. Demand for Hospice services in Northern Ireland is increasing and the charity is now caring for over 90% of patients in their own homes. Whilst Hospice care is free to the patient, it is not free to provide and the charity relies heavily on support and donations from the public.
Last year over 5000 families and individual sponsored a light on the NI Hospice tree. This year, NI Hospice is aiming to raise £200,000 through the appeal.
Funds raised through the Lights to Remember appeal will help NI Hospice to provide much needed care for patients over the Christmas period, both in the Hospice and in the home, right across Northern Ireland.
This year's appeal is particularly poignant, as NI Hospice hopes – with the public's support – to raise additional funds that will help complete the rebuild of its new adult hospice at Somerton Road, so donations this Christmas will help create a legacy of Hospice care for the future.
Northern Ireland Hospice still needs to raise £2 million to complete the rebuild of the adult hospice. Once completed, the new hospice will provide 18 modern single en-suite rooms, a Physiotherapy and Occupational Therapy facility, a Day Hospice, an Outpatient Clinic and an Education and Research centre which will support the advancement of hospice care in Northern Ireland.  The plans will also incorporate gardens, a children and relatives area, a sanctuary and a Chaplain's room where patients and families can relax together. It will be a centre of excellence in hospice care, providing care for many more people with a range of complex needs.
Anyone wishing to sponsor a light and help thousands of families across Northern Ireland can make a donation by calling 028 9077 7123 or visiting www.nihospice.org