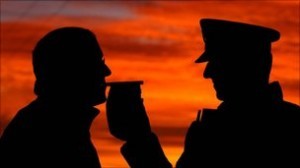 THE number of drivers and motorcyclists detected drink driving during the first weeks of this year's winter anti-drink drive campaign have fallen.
But the police say the number still being caught – from teenagers to old age pensioners – as "madness" and "disappointing".
According to figures released today, 132 drink drivers were detected between 27th November and 17th December, 24 less than during the same period last year.  This figure includes motorists who were unfit to drive, or who were unable or refused to give a sample.
The youngest person detected was 17 years of age and the oldest, 71 years of age. During the period, 108 males and 24 females have been detected.
Commenting on the figures, Assistant Chief Constable Alan Todd said, "When we launched this operation at the end of last month, we warned drivers not to take the risk because Police are determined to catch drink drivers.
qWhile the figures are down slightly, it's difficult to accept this situation as a success, we shouldn't be detecting anyone drink driving.
"It's disappointing that despite our warnings, there are still people who completely disregard the safety of themselves and others by continuing this shameful and incredibly dangerous practice.
"Every year across Northern Ireland, Drinking and driving kills, maims and wrecks families. Police will not tolerate people who insist on driving after having taken drugs or drink. We are again appealing for all motorists to consider the consequences of their actions.
"Think about the consequences to yourself and your family of being involved in a serious collision. How would you feel if your actions resulted in you or one of your family being paralysed? How would you feel if some innocent person was killed?
"During a recent shift, one of my officers dealt with three people arrested after being detected drink driving. Each of these young men, who need their driving licenses for their jobs, admitted that they had originally driven earlier that day and had parked their vehicles with the intention of using a taxi to get home after Christmas functions.
"Each claimed that because they had to wait or had difficulty in booking taxis, they decided to take the risk and drive home. This is madness. They took the risk and they were caught. They are lucky to be looking forward to a court appearance where they will most likely lose their driving license. The alternative consequences had they not been caught do not bear thinking about.
"People need to think ahead and plan how to get home with just as much care as they put into planning where to go and what to wear. People out for the night should get a lift home with a non-drinking friend or family member, or a licensed taxi driver.
"Already this year, 76 people have been killed in collisions on roads across Northern Ireland, 21 more than the total number of people killed in collisions during all of 2013. I do not want police officers knocking on any more doors this year, to tell families that a loved one has been killed in a collision.
"While our high profile series of roads policing operations will continue to target drink drivers day and night throughout the coming weeks, the sad reality is that more people will be caught drink driving during this campaign.
"Drink and drive and at best, like the 132 people detected so far, you are likely to be caught, arrested and brought before the courts. You will almost certainly lose your licence for one or more years, will be fined, and will have great difficulty in obtaining car insurance in the future. You also risk losing your job or going to jail.
"We are appealing for everyone to support our campaign and stay safe on the roads.
"Everyone has the responsibility to wear a seatbelt, reduce their speed, take greater care and attention, and NEVER, EVER, DRINK AND DRIVE," Assistant Chief Constable Todd added.