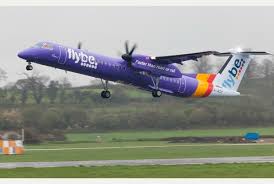 AN investigation is underway after the engine on an inbound plane to Belfast caught fire on Tuesday evening.
The Flybe flight had been travelling from Glasgow to George Best Belfast City Airport but was diverted to Belfast International Airport.
The Northern Ireland Ambulance Service said all 76 passengers and four crew were taken off the plane safely.
One person was taken to hospital as a precautionary measure.
Flybe confirmed the flight was diverted due to a small engine fire "which was extinguished before landing".
An inspection of the plane is under way.
Quintin Oliver, who was on the BE130 flight, said some passengers noticed the fire about half-way into the flight.
"It's a short 20 to 25-minute flight and there was a visible shudder throughout the plane and those on the left hand side behind the engine clearly saw it burst into flames," he said.
"Some of them described it as a burning rocket, as the flames were shooting out the back and the plane lurched a little, not dramatically, but a little as it presumably stabilised on the second engine.
"There was a lot of apprehension. There was no hysteria. The staff were as reassuring as they could be but they were visibly shaken, as well, which doesn't exactly command confidence amongst the passengers."
He said one of the emergency exits did not have steps so passengers had to jump about six feet onto the runway.
The plane had initially been delayed in Scotland because of a suspected problem with a wheel.
In a statement, Flybe said: "The emergency services attended as a routine and precautionary measure.
"At no time was the safety and well-being of passengers compromised."