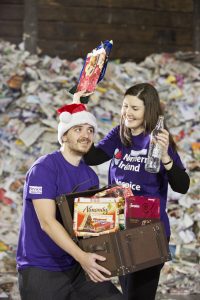 NORTHERN Ireland's leading recycling provider, Bryson Recycling is gearing up for a busy Christmas period and encouraging local homeowners to think about waste and recycle more for a good cause through their annual '£1 a tonne' campaign.
The unique charity initiative has donated over £40,000 to local charities over the past 10 years and this milestone year marks a special partnership with the NI Hospice, who provide support and care for over 3,000 local children, young people and adults with a life-limited condition or terminal illness.
For every tonne of material recycled through Bryson's kerbside box collection from now until March 2015, £1 will be donated to the Hospice and its rebuild at Somerton House in Belfast.
Bryson Recycling is asking householders to remember to recycle as much as possible and help make a real difference to this worthwhile cause.
Eric Randall, Director of Bryson Recycling commented on the milestone of the charity campaign;
" We are delighted to be working with the NI Hospice to mark a special milestone of the '£1 a tonne campaign' as they provide an invaluable service, which involves 24 hour support and care for patients with life limiting conditions."
"Christmas is a time to celebrate with family and friends but we also tend to consume more, therefore producing more waste. Our advice this year is to think before you throw items away.
"Recycling is an efficient way to ensure the whole family has a greener Christmas and it's great to know that the Hospice will benefit too. Each year we collect around 6,000 tonnes of recycled goods throughout this period and we would love to be able to donate up to 200 bricks for the Hospice rebuild.  Everything from Christmas cards and cranberry sauce jars, to drinks bottles and batteries can be recycled through your weekly kerbside collection.
"Some items that cannot be recycled are wrapping paper and cards that contain glitter or non-paper parts and plastic packaging from toys cannot be recycled either."
This year's '£1 a tonne campaign' will help the environment and Hospice build for a better future as construction continues on new premises to leave a lasting legacy for the local community.
Ellen Hillen, Corporate Fundraising Manager from the NI Hospice said, "We are delighted to have been nominated by Bryson Recycling as the beneficiary from their '£1 a tonne' appeal in their tenth year. Every pound will go towards bricks for the rebuild to enable us to provide care that only the Hospice can provide.
"We know that people should recycle more at this time of year and just £30 is enough for one more brick in the rebuild.  We are encouraging everyone to do their bit for recycling in the coming months. This will go a long way to help us care for local children, young people and adults and support their families."
Bryson Recycling is part of Northern Ireland's leading social enterprise, the Bryson Charitable Group. It offers a weekly recycling collection service to over 170,000 homes across the province throughout six council areas including Armagh, Ballymena, Belfast, Carrickfergus, Castlereagh and Newtownabbey.
Bryson's festive Recycling Guide
Wrapping paper – metallic or plastic wrapping paper cannot be recycled it needs to go with the general waste.
Christmas cards can be recycled unless they have glitter on them- this harms the recycling process
Christmas trees –put in the garden waste bin if you have one. Otherwise, household waste recycling centres (HWRCs) will accept Christmas trees
Old electrical goods need to be taken to household recycling centres where they can be safely and legally disposed of for recycling.
Christmas packaging – sort into cardboard and plastics. Remember plastic packaging from gifts or toys cannot be recycled
Glass bottles, tins and cans – can all be recycled just dispose into the right compartment/ box
To find out more about what is collected in your area please visit the Bryson Recycling website- www.brysonrecycling.org