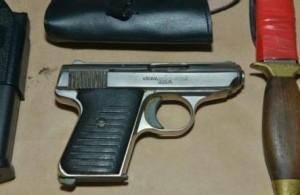 POLICE have issued a warning to owners of legally held firearms and ammunition after a number of thefts, fearing terrorists may have them.
Incidents have taken place in which firearms have been stolen, warned a PSNI spokesman.
Chief Inspector Tony Callaghan said stolen weapons were going to criminal elements and potentially to terrorists.
"Stolen guns can be used for a variety of criminal and terrorist purposes and our concern is that lives could be put at risk," he warned.
"It is the responsibility of all owners of legally held firearms and ammunition to ensure the items are stored safely.
"Our advice is aimed at all who have licensed firearms, be they farmers, sportsmen or gun club members.
"Our Crime Prevention and Firearms Licensing officers can carry out spot checks to ensure firearms are being stored properly.
"If we find that weapons are not being properly secured, then the owners face the likelihood that the guns will be seized."
The following is good practice that gun owners should be aware of:
Owners should secure all their firearms and ammunition in approved gun cabinets that have been manufactured to the correct standard.
The cabinet should be secured to the fabric of the building. Considerable thought also needs to be given to the appropriateness of its location.
Never store other valuables in a gun cabinet.
Those with hold bolt-action rifles should store the bolt separately. For added security, rooms where firearms are being stored could also be fitted with alarm sensors.
Keys to gun cabinets should also be kept in a secure place with access limited to authorised persons, without a label, and away from the cabinet.
Anyone who requires further crime prevention advice on this or any other subject should contact their local crime prevention officer on the 101 non-emergency number.
Any information about crime should be passed to police immediately. Suspicious activity should also be reported to police without delay.
Local police can be contacted on 101. Alternatively the Crimestoppers charity can be contacted anonymously on 0800 555 111.