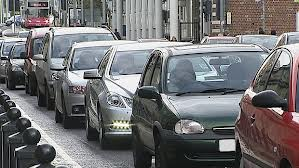 A security alert on the M1 has ended but Belfast is still reeling from massive tailbacks as commuters headed home from work.
Police say a suspicious object found on the motorway has been declared as "nothing untoward" by Army Technical Officers.
The security alert finally ended around 5.40 pm on Tuesday teatime.
As a result, all road closures imposed because of the alert have now been lifted, said a PSNI spokesperson.
Chief Insp Natalie Wilson said: "We appreciate the level of frustration that everyone has felt.
"We are hopeful that traffic will be able to move freely soon."
Parts of Belfast city centre were in gridlock for several hours as the alert caused massive tailback.
Some Metro bus journeys heading into south and east Belfast were taking up to an hour on Tuesday evening.