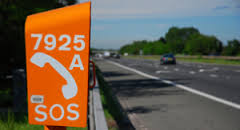 THE PSNI And Transport NI are advising motorway users that all Motorway SOS phones across Northern Ireland will be out of use between 7am on Tuesday 9 December and 7am on Thursday11 December.
This to allow for essential electrical maintenance in the police Urban Contact Management Centre.
Chief Inspector Diane Pennington explained, "Police will have additional resources patrolling the motorway network, with additional support from our Transport NI colleagues monitoring the network via CCTV cameras, but we are reminding the public that Motorway hard shoulders should only be used in an emergency.
"While it is always best to try and drive to a safer place off the motorway if you can rather than stopping on the hard shoulder, in an emergency, pull on to the hard shoulder and stop as far to the left as possible, with the wheels of your vehicle turned to the left. Ensure your hand or footbrake is on, leave your sidelights on and switch on your hazard lights.
"If appropriate and there is room on the hard shoulder for you to stand away from traffic then you should leave the vehicle by the left-hand door and ensure all your passengers do the same and the use a mobile phone to call Police on 999 to alert us to your emergency.
"If you have reflective jackets in the vehicle wear them. Ensure that passengers keep away from the carriageway and hard shoulder, and that children are kept under control.
"It is best to retreat up the bank or behind a barrier if this is possible and await the arrival of police."