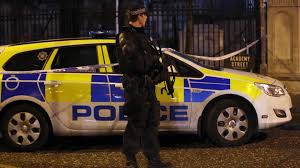 THE POLICE Ombudsman is investigating after a van collided head-on with another vehicle being driven the wrong way down the M2 motorway in Belfast following a police chase.
Paramedics treated both drivers treated for serious injuries at the scene before taking them to hospital.
However, their injuries are not thought to be life-threatening, following the crash around 10.15 pm on Friday.
The white van had failed to stop for police in the Saintfield Road area of east Belfast 45 minutes earlier
Around 10 pm, police received a report that a van collided with four cars on Cregagh Road but drove on.
Police said they received further reports at around 10.15 pm of a van travelling in the wrong direction on the M2 heading out of Belfast before colliding head-on with an oncoming vehicle.
Firefighters cut both drivers free from the vehicles.
Police said that officers had pursued the van for a short distance after it failed to stop on the Saintfield Road, but abandoned the chase "for reasons of public safety".
The Police Ombudsman's office has been informed an investigation is being carried out into the circumstances leading up to the crash.
Insp Rosie Leech said: "I would appeal to anyone who saw a white Ford Transit van sdriving erratically in the Knock, Cregagh and Saintfield Road areas of east Belfast yesterday evening between 9.30 and 10.15 pm.
"And alsoanyone who was travelling on the M2 close to the M5 junction and witnessed the accident, to contact police on the non-emergency number 101."