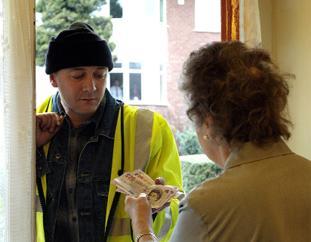 POLICE are urging the public to be vigilant following a report of bogus callers in north Belfast.
A spokesperson said: "On Wednesday 03 December 2014 shortly after 2.00pm a resident, reported that two males called to the front door on the West Circular Road, stating that they needed to check the boiler.
"The householder was immediately suspicious and asked the males for ID.
"They didn't produce any ID and stated that they were volunteers for the organisation and therefore didn't have ID. The males ran from the property and got into a green Ford Mondeo. There were a further two males already in the vehicle.
"Anyone who may have information relating to this incident or who may know the individuals involved is asked to contact Police at Musgrave Station on 101.
"Please continue to look after elderly neighbours and remind them of the "Quickcheck" scheme – which is a dedicated number (0800 132290) that anyone can ring to check the identity of callers to your home.
*Everyone should be cautious of unexpected callers at their home.
* Think before you open the door – use your chain and spy hole or look out of the window to see if you recognise them.
* Do not open the door unless you know the individual.
* Ask callers for proof of identity.
* Genuine tradesmen should carry a photographic identification card.
* Check this carefully and if you have concerns telephone QuickCheck on 0800 013 22 90.