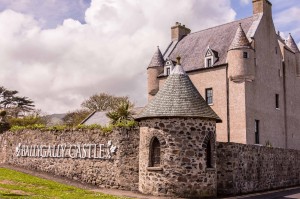 BY TIM HEDGLEY, GROUP TRAVEL EDITOR
AT this time of year there is simply nowhere better to go than one of Hastings Hotels little gems.Ballygally Castle Hotel in Ballygally, Co Antrim is situated on one of the most beautiful coastlines in the world.
This wonderful hotel has recently undergone a major renovation project and now boasts 20 new deluxe bedrooms and brings the total number of superb rooms to 44.
There is little doubt in my mind the Ballygally House hotel was once the poor sister in the Hastings Hotel chain, but they have done a truly spectacular job on the Ballygally and she is right up there with the rest of the chain in terms of style, decor, elegance, great service and above all a stunning location.
Situated right on the footsteps of the amazing Glens of Antrim this has to be a first choice if you are going to explore the Glens properly. And you can take it from me the hotel was buzzing with tourists and business folk alike when I stayed a few weeks ago.
In all my years of travelling, I had never thought of saying there, but I had been hearing reports of great food and superb service and accommodation and I thought it time to check out this little jewel in the Hastings crown. The Hotel is bedecked with wonderful period features, original beamed ceilings, combined with tasteful contemporary décor which all goes to making it a truly unique hotel.
Sitting in the bar area and looking out over the Irish Sea to Scotland, to say the views are spectacular does not do it justice. And I can't think of any other hotel that has a view just as good as this.
Great Sleep
We all know that a great nights sleep is important when staying at any hotel and this is where the Hastings group excels, Hastings group know what make a good nights sleep and its this knowledge that ensures you really do feel pampered. Quality furnishings, excellent linen and even a little Hastings duck for you bath, and a superb bathrobe go to make the Hastings sleep experience one to remember and mine was just that.
In addition to a great nights sleep one requires good food to complete the circle and the Ballygally does not disappoint.
The Castle's Garden restaurant enjoys beautiful views over the hotels compact grounds offers an excellent table d'hôte dinner menu, as well as a range of daily specials, where clearly their chefs use only the best of local produce to provide a wide range of culinary delights for the guest and visitors alike. When I stayed I enjoyed a fine Sirloin Steak with proper Layonaise potatoes (a rare find, normally they are deep fried!) delightful vegetables, crisp and crunchy the way they should be and some desserts to die for. If a little fine dining is not your thing, then be assured you can also enjoy a selection of lighter dining options from the bistro menu in the new lounge overlooking the coast.
In the morning you will be treated to a breakfast from the finest local providers. Hastings Hotels pride themselves on using local producers and its really a credit to them, tell me any other hostelry you can go to, where they explain in great detail from where and who supplied your breakfast? Well-done Hastings!
From the beautiful Antrim Suite, with its spectacular panoramic views to the new Garden wing and the original period rooms, uniquely shaped by the castle's imposing architecture – this is a great choice of hotel to visit. Although we are just after Halloween it's important to note that around this time of year the hotel takes on a more sinister feel as it is reputed to be a very actively haunted hotel indeed. The hotel dates back to about 1625 and it been told that the late Lady Isobel Shaw, frequents the hotel on a regular basis! And not just around Halloween!
Lady Isobel was apparently locked in her room and starved to death because she bore a female child and her regular roaming's around the hotel have scared a number of frightful guests. I am reliably informed however that pales into insignificance to that of the screaming of the starving daughter! So if you are thinking of visiting a beautiful hotel close to the world class Antrim coastal route then consider the Ballygally Castle you will not be disappointed.
---
ENJOY A FESTIVE BREAK AT THE EUROPA HOTEL FROM ONLY £45PPS*
Includes overnight accommodation, breakfast and cocktail.
WITH the Belfast Christmas Market set to return to Belfast later this month for the tenth year, the Europa Hotel has launched a sensational seasonal offer (available from November 17) to help people get festive with overnight accommodation, breakfast and a cocktail from only £45pps*.
The 4 star Europa Hotel is superbly located in the heart of Belfast city centre making it the perfect base for people planning on shopping 'til they drop.  The hotel boasts a choice of dining options for guests, including The Piano Bar for cocktails or afternoon tea, the contemporary Causerie bistro with an extensive menu focused on local produce, and the more informal Lobby Bar which offers great pub grub and light bites as well as live music at the weekend.  This stylish, contemporary hotel is the first choice with celebrities and VIP's when visiting Belfast.
To book this fantastic offer, contact the Europa Hotel on 048 9027 1066 or go towww.hastingshotels.com
*Subject to availability. Terms and conditions apply.