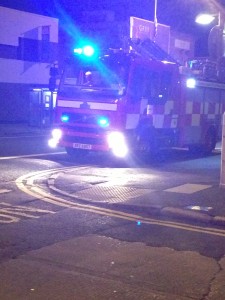 A man was taken to hospital last night after being rescued from a fire last by two passers-by.
The victim was led to safety by two men after a chip pan was left unattended in a flat at  Meadowview Crescent, Rosemount, Derry, just before 7.00 pm.
It is understood two men who were passing the scene broke a window to gain access to the property.
Once inside, they battled thick black smoke and woke a man sleeping on the sofa in the living room of the flat.
Kevin Lynch, local commander of the Northern Ireland Fire and Rescue Service, said the "brave actions" of the men had saved lives.
No one was injured in the incident but one of the occupants of the flat was taken to hospital for treatment of the effects of smoke inhalation.