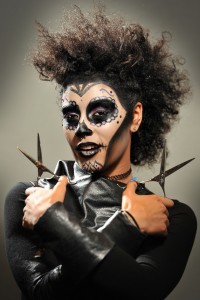 WITH Halloween 'creeping' up, stylists at leading Belfast salon, Bespoke Hairdressing, have proven they really are 'spooktacular' when it comes to creativity with their very own 'hair-raising' style.
Terezita Doherty from Belfast was happy to model the latest Bespoke creation, which is described as 'scarily sexy' by the salon's artistic team.
"We decided to get into the 'spirit' of things and come up with a ghostly creation to scare off any ghouls that may come calling," laughed Bespoke salon manager, Sonia Hutchinson.
"Our talented stylists worked with top, local make-up artist, Ellen Lunney from the Paddy McGurgan Make-up Pro Studio, to transform Terezita from beautiful model to scarily sexy monster."
She added: "Northern Ireland is the best place in the world to celebrate Halloween and more and more people are not only donning fancy dress as they head out on October 31, they are also accessorising with individual and unique hair and make-up creations, rather than restrictive, shop-bought masks."
Established in 1998, Bespoke Hairdressing is Northern Ireland's largest Aveda hair salon with outlets on Belfast's Lisburn Road and Belmont Road.
Anyone brave enough to try one of the salon's stunning Halloween creations can call: 028 9024 6664 (Lisburn Rd) or 028 9065 0505 (Belmont Road), click on: www.bespokehairdressing.com or follow the company on Facebook or Twitter.