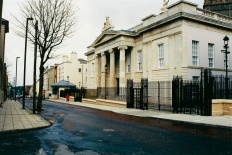 A 32-year-old Derry man, who survived an attempt to murder him six years, was described as a "principal member" of a crime gang responsible for bringing over £2 million worth of drugs into Northern Ireland when he appeared at Derry Magistrates Court this morning charged with a number of drugs offences.
Declan Gallagher, with an address in Greater Manchester in England, faced a total of 17 charges relating to  six seizures of cocaine and cannabis with a street value of £2.1 million.
Gallagher, whose occupation in court papers was given as a driving instructor, is charged on dates unknown between September last year and August this year of conspiring and being concerned in the supply of class A and class B drugs, namely cocaine and cannabis, in the Derry, Belfast, Antrim  and Craigavon areas.
The is also charged with the importation of cocaine into the Craigavon area on 22 June last.
He faced two further charges of conspiring to supply cocaine and cannabis in the Derry, Antrim, Newtownards, Fermanagh, Tyrone, Armagh, South Down and Belfast areas between 1 September last year and 14 October last.
Following an application for anonymity by defence solicitor, Paddy MacDermott, Resident Magistrate Barney McElholm ruled Gallagher could be named but that his address be given only as Greater Manchester.
Mr McElholm made the ruling after hearing Gallagher had survived an attempt to murder him in 2008 while he was living in St Johnston in Co Donegal.
At the time the gang responsible, believed to the Derry-based Republican Action Against Drugs (RAAD), abducted his girlfriend and shot dead her dog.
Weeks later, a bomb disposal team dismantled an incendiary device which partially exploded at the house.
Opposing an application for bail, a PSNI detective told the court the offences related to the seizure of six major consignments of drugs, worth £2.1 million, brought into Northland Ireland over the past year.
The detective added Gallagher was a "principal" member of the gang behind the seized drugs.
The police witness told the court Gallagher was the eighth member of the gang to appear in court this week, adding police had "substantial evidence" linking him the offences.
This included evidence of him meeting other members of the gang both in Great Britain and Northern Ireland and of a number of trips to Spain and Amsterdam in Holland.
The detective said during police interviews, the accused made not attempt to explain the reasons for the trips.
The detective said police feared if  Gallagher was released on bail he would reoffend in an attempt to recoup the "very significant" financial losses.
In response to questions from Mr MacDermott, the detective conceded there was no forensic evidence linking the accused to the offences, adding Gallagher's involvement was "very intelligent and sophisticated."
The detective also said Gallagher had denied the offences.
Refusing bail, Mr McElholm said was a "flight risk" due to his links links in the Republic of Ireland, England, Spain and Amsterdam.
Gallagher was remanded in custody to appear in court on 6 November next via video link.