POLICE have smashed a cannabis factory seizing plants with a street value of between £750,000 and £1 million.
The drugs were seized during a raid on a house in Church Street, Portadown, on Wednesday afternoon.
Two men have been arrested for questioning over what policed described as a "very sophisticated cannabis factory".
Detective Chief Inspector Stephen Wright said: "A number of plants, cultivation equipment and associated items have been removed for further examination.
"Officers on patrol in this area noticed a smell of cannabis and their subsequent enquiries led them to this cannabis factory.
"A 36 year old man and 21 year old man have been arrested and are currently assisting us with our enquiries.
"We are pleased to have removed this amount of cannabis from circulation in our community and I would urge anyone who has information in relation to drugs to contact us immediately on 101.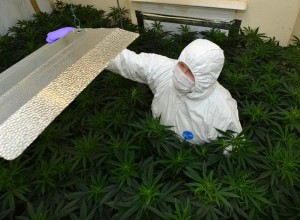 "The public may find our newly launched scratch and sniff cards useful in recognising the smell of growing cannabis.
"The cards were launched a few weeks ago and officers are currently distributing them to the public across Northern Ireland.
"The cards contain an element that replicates the smell of cannabis in its growing state which is a different smell to when it is being smoked.
"We hope these cards will help to educate and inform about how you can spot and detect cannabis factories."