WITH Halloween just around the corner, the Northern Ireland Tourist Board (NITB) is encouraging everyone to have abewitching time and explore all the frightful fun available across NI for the whole family.
Whether you are planning a short break or dress-up days away with your little wizards and witches there are loads of great happenings to choose from including paranormal tours to Halloween concerts and fancy dress competitions tospook-tacular fireworks displays making Northern Ireland the perfect place to be this October.
The choice of events and activities on offer is massive so everyone will find something that's spine-tinglingly good and right up their dark alley, explained NITB's Destination PR Officer, Pauline Gormley.
"Every corner of Northern Ireland will be celebrating Halloween this year so get your best fancy dress on and join the thousands of people  who celebrate Halloween in Northern Ireland – it's definitely more treat than trick!," said Pauline.
"We've put together a terrifyingly good list of just some of the events and would encourage everyone to check out what's happening in their local areas as well for some guaranteed fun.
"The is an especially magical time for little kids so it's great that the October half-term happens at this time as there will be literally hundreds of hauntingly good ways for the whole family to get together and have fun," concluded Pauline.
To help you have a thrilling time this Halloween, NITB has compiled a list of ghoulish goings-on – read on at your own peril!
Belfast
Paranormal Tours – Halloween Special, Crumlin Rd Gaol, October 16 – November 5.  Since closing its doors in 1996, Crumlin Road Gaol has been associated with spooky goings on and unexplained happenings.   During a sixty-minute tour participants will visit the various hot spots of the Gaol where paranormal activity has been reported including the condemned man's cell, execution chamber, the tunnel and flogging room. This creepy experience costs £15 and is certainly not for the faint hearted!
The Metro Monster Mash, The Slipways, Titanic Belfast, October 27, is a free Halloween spectacular event which is sure to scare and delight young and old this October. This spook-tacular evening includes the haunting street theatre, fire jugglers, music and the largest fireworks display in Northern Ireland – wow.
Streamvale Open Farm will host Spooky Farmyard from October 25 – 31. Children and families can enjoy an evening of spooky fun with decorated animal pens, pumpkin carving, dress the scarecrow, traditional games and Halloween story telling. Children are encouraged to come dressed in their scariest outfits!
Baby Boo (suitable for children up to 18 months), The Mac, November 1.  Your little terrors will enjoy this special event specifically aimed at younger children. Kids can crawl through spooky tunnels and spider webs and listen to spooky stories that go BOO!  Workshops cost just £7 per child, or £15 for 3 children.  Accompanying adults go free.
Co. Antrim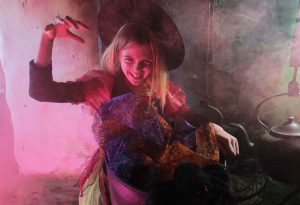 Boo at the Zoo, Belfast Zoo, Newtownabbey, October 31, will host a day of eerie activities including: creepy crafts, face painting, bat talks, a spooky trial, fancy dress and a competition for the best carved pumpkin.  Best of all, anyone under the age of 18 will get in free if they come in fancy dress! Tickets for adults are priced at £8.50 whilst children age 4 to 17 cost £4.25 and kids under 4 go free.
Mr Hullabaloo's Not So Scary Halloween, The Courtyard Theatre, Newtownabbey, October 25.  This is the perfect event for little ones as they can join Mr Hullabaloo and his cast of colourful puppet friends in the magical pumpkin patch where they will enjoy storytelling and spooky sing-alongs and treats to take home. Tickets are priced at only £6 each.
Co. Armagh
Halloween Concert, The Shambles Yard, October 27.  Former Westlife star, Kian Egan will headline the open air concert and will be supported by The Whistling Donkeys and Hair O The Dawg.  Tickets are only £5 and the concert will provide great live fun and entertainment for the whole family especially for the thousand of Westlife fans across the country.
Little Spooks, Navan Centre and Fort, Armagh, October 30 to November 1.  This is the perfect event for brave little spooks! Kids can enjoy a shadow puppet show as well as make their own. Activities available include the Boo Barn, Little Red Riding Hood trail and Frankenstein's Workshop.  Shows are available at 1pm, 2pm, 3pm and 4pm and tickets are priced at £6 per person.
Extreme Spooks, Navan Centre and Fort, Armagh, October 31. Extreme Spooks promises to be a 'horrifying' experience and is certainly not for the faint hearted! Attendees can join the guided walks through hair-raising trails whilst trying to avoid what may pop out from the undergrowth or jump out from behind a tree. Those joining in on the spooky fun should come in fancy dress to be in with a chance of winning a prize.  Admission is £10 per person and booking in advance is essential.
Co. Down
Halloween Camp, East Coast Adventure, Rostrevor, November 1.  This annual Halloween Camp will see attendees put through their paces during a selection of frightfully fun land-based and water activities. Those who are brave enough to stay the night will pay a visit to the haunted house before dressing up for the fancy dress Halloween party. Day camp tickets are priced at £25 each and overnight camp tickets are £55 each.
Hallowtides Festival, Newcastle, October 31. The seaside town will host a jam-packed calendar of spooky events as part of its annual Halloween celebrations.  Attractions will include live music, a fancy dress competition, themed float parade and one of the region's largest fireworks displays on the seafront and for most of the events, admission is free.
Halloween Family Festival, Cultra, October 31.  Visitors should come dressed to scare as they embark on a mysterious adventure through the Ulster Folk and Transport Museum. There is lots of spooky fun on offer including a Halloween Murder Mystery, magic shows, craft activities as well as the opportunity to watch a horror film – if you dare! Tickets are priced at £11 for adults and £6 for children.
Co. Fermanagh 
Halloween Extravaganza at Enniskillen Castle Museums, October 31. This fun family event will provide entertainment for everyone with ghoulish goings on, crafty capers and scary stories. Tickets are priced at £3.50 and attendees are encouraged to come along in fancy dress to join in on the spooky atmosphere.
Kids Halloween Cookery Course, Belle Isle Cookery School, October 30. Families and children can treat themselves to a scarily good cookery course where they can learn to bake some ghoulish treats to impress their mates. The half day course costs £35.
Halloween Howler, Lisnaskea, October 28-31.  Head along to the Share Centre for a host of Halloween treats this October.  Highlights include Ghost Ship Cruises and Ghost Paddles on Lough Erne, a Haunted Forest Trail, pumpkin carving and a fireworks display. Tickets are priced at £9 per person or £30 for a family of 4.
Halloween Fest and Craft Fair, Florence Court, October 26. Families can enjoy an afternoon of fun and capers and those feeling brave enough can take a spooky tour of Florence Court House.
Ghost Ship Cruises, Share Centre. These popular cruises are running every Sunday in October and are the perfect way to spend a ghostly day out. Tickets are priced at £5 per person or £16 for a family of four. The Share Centre is also running a Halloween Howler event from October 28 – 31 which includes a Ghost Paddle, Forest Walk and Pumpkin Carving along with Halloween Games, bouncy castle and a fancy dress competition.
Co. Tyrone
Halloween Torch Light Tours, Ulster American Folk Park, Omagh, October 29 – 31. Families can enjoy a spooky tour of the outdoor museum as darkness falls and enjoy being guided around the exhibit by torch light as they are entertained by ghost stories, ghouls and witches. Tickets are priced at £11 per adult and £6 per child.
Halloween Story Telling/ Art Workshops, Dungannon Library and Ranfurly House, Dungannon, October 31. These workshops are for children aged 4 to 7 years old and 8 to 11 years old. They can enjoy a day of jam packed fun listening to 'freaky tales', creating their very own art in the art workshop, making and decorating their very own pumpkin mask and learning how to create their very own sock pumpkin. Best of all, admission is completely free!
Halloween Fireworks and Spooktacular Celebrations, Market Square, Dungannon, October 31.  Families can look out for ghostly goings on in Dungannon town centre and get into the spirit of Halloween with a feast of spectacular fireworks and entertainment for all the family.
Co. Londonderry
Banks of the Foyle Halloween Carnival, October 27 – November 2. This five day festival will cast a spooky spotlight on the city and all it has to offer in terms of culture, art, imagination and lots of fun. Admission is free and lots of ghoulish events will be available for all the family to enjoy including a creepy ghostbusters tour and night time markets.
Mini Haunted Hezlett, Downhill Demesne and Hezlett House, October 26-27. This fun day time event is perfect for little ones and everyone is encouraged to come along in fancy dress. Tickets are priced at £5 and the day will be spent creating spooky crafts and taking a tour of the haunted house.
Fright Night, Jungle NI, October 10 – November 1.  Unused farm buildings will be transformed into a maze of Halloween horrors allowing visitors to choose from some very scary experiences including the Inbred Horror which uses state of the art sound, lighting and special effects and is unlike any other scare attraction in Ireland. The Murderous Maze is certainly not for the faint hearted as participants have to make haste through a ten acre cornfield without being spotted by noisome creatures lurking within. Prices start from £5 per person.
For more details click on www.discovernorthernireland.com/events, visit your local tourist information centre or log onto www.facebook.com/discovernorthernireland.