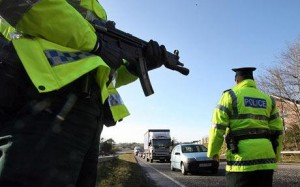 A COVERT security operation involving soldiers and police has thwarted a dissident bomb attack along the border.
Police say a "significant" amount of explosives, munitions and other materials was found in Co Fermanagh.
It follows weeks of surveillance using a drone plane and undercover soldiers from the Special Reconnaissance Regiment.
Chief Constable George Hamilton said the find "prevented serious harm by violent dissident republicans".
A three-day operation began on Wednesday, with searches centring on a farm close to the Irish border.
Officers have been examining a building and vehicles at the farm, about three miles from the village of Kinawley.
Said Mr Hamilton: "We believe we have prevented serious harm being caused to our communities and I welcome the efforts by my colleagues in the crime operations department.
"We do believe that violent dissident republicans are behind this activity in Fermanagh."
Detectives have been granted a further three days to question a 43-year-old man, arrested on Wednesday as a result of what they called "suspicious activity".
In fact, the suspect was under round the clock "close quarter surveillance", said an informed source.
A 35-year-old man arrested in north Belfast on Thursday as part of the operation has been released unconditionally.