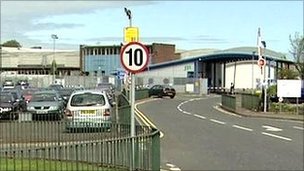 A CO Antrim cigarette maker is shutting up shop with the loss of almost 900 jobs.
Ballymena-based JTI Gallaher told workers today of the news as it started to roll out a redundancy programme.
Local DUP MP Ian Paisley jnr said the loss of the jobs would be a "body blow" to the economy of Ballymena when they start to kick in in 2016 as it one of two major employers in the town.
"The announcement today means that it effectively starts a 90-day consultation with workers, not only in Ballymena but across JTI's European footprint, to cease production".
"Each year almost £60m is pumped into the local wage economy by JTI – from 2017 that will be over," he said.
In 2007, JTI took over Gallaher, which made Silk Cut and Benson & Hedges cigarettes.
JTI said it was restructuring its manufacturing facilities "as a result of significant and sustained changes impacting its global business".
"The challenging economic environment, excise tax pressure coupled with illegal trade has triggered industry volume contraction in a number of key European countries," it said.
The company said these problems had been compounded by European Union cigarette packaging legislation.
Anti-smoking legislation is being introduced across the EU in an attempt to cut the number of smokers by 2.4 million.
Employment Minister Arlene Foster said the move was "bad news for the Northern Ireland economy as a whole".
She said she had written last week to Health Secretary Jeremy Hunt to raise her concerns about the implications of the legislation for the firm.
"I urged him to commission further research to ensure that any health benefits were not offset by an increase in the trade of illegal tobacco, and I am deeply concerned that the magnitude of the implications for the NI economy were not fully considered," she said.
Mrs Foster said the Northern Ireland Executive would "do all that is possible to limit the impact of the redundancies".
JTI said it had begun consultations on proposals to close its facilities in Northern Ireland and Belgium, with production possibly moving to Poland and Romania.
The firm said its restructuring would be phased in, with factory closures completed between 2016 and 2018.