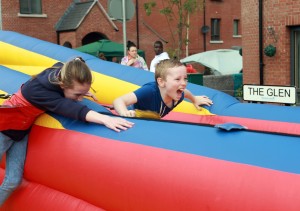 TWO new social housing developments totalling £9.2 million will underpin economic and community regeneration in North Belfast, Newington Housing Association said today.
More than 70 new homes in The Glen and Parkside schemes on Limestone Road have been handed over to tenants and the schemes were officially opened by the Lord Mayor of Belfast, Nicola Mallon. Funded by the Department for Social Development, the developments will be accompanied by an additional 14 units which will be started by Newington Housing Association later this year.
Regarded as a 'flashpoint' during The Troubles, high levels of civil unrest and community division have, historically, complicated efforts to put existing housing and land to their best use to meet acute housing need in the area.
Gary Dugan, Chief Executive of Newington Housing Association said:
"Although these homes have only recently been completed, there has been a significant and positive impact on community confidence in the area. The planning, development and completion stages have enabled wider cross-community discussions about how this area can improve and secure new opportunities for sustained prosperity. A concerted effort on both sides of the interface and support from our statutory partners has injected new energy that is reinvigorating Limestone Road.
"In the past, some viewed Limestone Road as a last resort but now this is a place where people want to live and that's having a positive impact on this area and others. As a result of people choosing to relocate, redevelopment plans for surrounding areas such as Long Streets  in the New Lodge are becoming possible. Alongside our development partner, Apex Housing, we are hopeful of creating up to 90 new homes in the near future."
Extensive cross-community engagement helped shape the overall planning and delivery of the new homes in the once-abandoned residential sites and the units have been carefully designed to retain the heritage of the area.
Speaking at the official opening of the housing developments, Belfast Lord Mayor Nicola Mallon said: "This is a welcome development for north Belfast and I am delighted to meet our new neighbours and engage with local residents – whether they be already established or newcomers to the area.
"This is a wonderful community with a great heart.  I sincerely wish residents here every happiness in their new homes for years to come".
Mervyn Storey MLA, Minister for Social Development, said: "One of my aims is to provide an increased number of good quality social homes throughout Northern Ireland.
"I am delighted that DSD Funding of £5.6m has been invested in these 70 new energy efficient homes on the Limestone Road.  I'm sure everyone will agree that these are a welcome addition to the area.
"Newington Housing Association should be congratulated for providing these new homes in North Belfast and returning the area to a place where people want to live."
The new homes have been built to high energy-efficiency standards to reduce heating and energy bills for the families who live there.