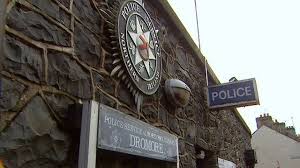 POLICE have recovered two viable pipe bombs and arrested a man and woman.
It followed the search of a house in the Lantara area of Ballymena, Co Antrim this morning.
Detective Inspector Richard Carmichael said: "ATO were tasked to the scene following the discovery of suspicious objects at the house.
"They inspected and made safe the objects which were described as viable pipe bombs.
"A man aged 39 and a woman aged 27 were arrested in connection to this incident and have since been released on police bail pending further inquiries."