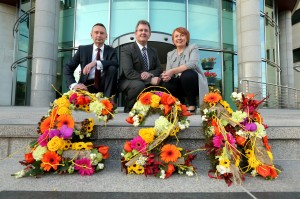 A local funding initiative designed to boost community and biodiversity projects, is celebrating its success in giving over £2 million to schemes within the Greater Belfast and Lisburn areas.
The Alpha Programme- managed by Groundwork NI- allocates its funding through the Landfill Tax Credit Scheme, which helps improve the lives of communities living within a 10 mile radius of the Mullaghglass landfill site at Castlerobin on the outskirts of Lisburn.
Since the Alpha programme's launch in 2008, a total of 73 projects have been assisted with funding to date of £2,226,652.92.
Commenting on the success of the Alpha Programme's milestone event at Lisburn Civic Centre, Mark Kelly, from Alpha Resource Management said;
"Alpha Resource Management recognised the opportunity to develop a programme for distribution of Landfill Tax Credit funds for the operation of the Mullaghglass Landfill site.
"We have been impressed with Groundwork NI and the associated projects that have been undertaken in the heart of local communities over the last 6 years.
"The Alpha Programme has funded a diverse range of projects which have had a positive impact in the surrounding areas.
"These have included community gardens, play areas, sports grounds and facilities plus many more community led environmental regeneration schemes.
"Four projects in the community and biodiversity categories involved in the programme received a further £30,000 at our celebration event to continue their good work. Cliftonville Community Centre (£10k), RSPB (£10K), Springhill Park (£5k) and Ligoniel Improvement Association (£5k) are all a testament of what the programme seeks to achieve.
"Thanks to the impact of this programme, we have improved the general perception of the industry whilst having the opportunity to re-invest back into the community.  We will continue to make a commitment to the good work by working in close partnership with these projects."
Sylvia Gordon, Director at Groundwork NI said; "The Alpha Programme enables people to develop creative and effective ways to transform their neighbourhood and their communities. In reaching the £2million milestone, the programme has achieved a proud record of supporting projects and ideas that have significantly improved the lives of people of all ages and from all sections of the community.
"In six years, the Alpha funding has become a catalyst for meaningful community regeneration programmes and more than 70 groups from football clubs, community centres and church halls to the Royal Society for the Protection of Birds (RSPB) have benefited as a result.
"We welcome applications from any group that demonstrate a desire to transform their local surroundings in through innovative community work or projects that support bio diversity and the environment."
Jeffrey Donaldson, Lagan Valley MP added; "The Alpha programme has transformed derelict spaces into shared areas and also improved local wildlife places of interest for visitors.  I am delighted to mark this milestone with those who have benefited greatly from its assistance over the years.
"I have experienced first-hand the difference that Alpha funding can make to both community spaces and environmental projects and would encourage groups who are interested in improving their offering to get involved and learn more about the Alpha Programme."
Applications for the next stage of funding are open until 26th September 2014 at 5:00pm followed by Friday 9th January 2015 at 5:00pm. For more information on the programme, download the application form and guidance notes please visit www.alphaprogramme.com  or www.groundworkni.org.