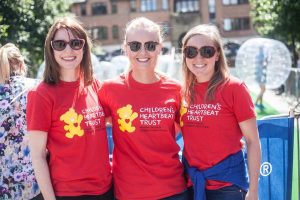 PARENTS of children with congenital heart disease will be alarmed at the news that the International Panel's report has recommended that the vast majority of children's heart surgery on the island of Ireland should take place in Dublin.
Speaking after Assembly questions, Children's Heartbeat Trust Executive Officer Sarah Quinlan has said that the new Health Minister Jim Wells must publish the report without delay and that key questions must be answered before any steps are taken to remove children's heart surgery permanently from Belfast.
Sarah Quinlan, Executive Officer, Children's Heartbeat Trust, said: "Parents will be alarmed at the Minister's statement that the Independent Panel have recommended that the vast majority of surgery should move to Dublin without the report itself being published.
"We call on the Minister to publish the report so all those involved in the provision of cardiac care to children can understand how the panel reached this decision."
"The campaign for the retention of paediatric cardiac surgery in Belfast has the support of most MLAs at Stormont across all political parties. We want to know that all children with a congenital heart defect in Northern Ireland can access safe surgery and emergency surgery as they need it."
Sarah outlined the key questions which need addressed if surgery is stopped in Belfast:
* If surgery is moved to Dublin, what system will be in place to treat children born without ante-natal diagnosis? (i.e. where a defect has not been diagnosed during pregnant and an emergency cardiac situation arises after they are born).
*What steps is the Minister taking to ensure that cardiology and other specialist services are not subject to the same run-down that cardiac surgery has been subjected to?
Ms Quinlan continued: "We also want to see a strategic all-Island plan to address training and service provision for the next decade that will support the care of babies, children and adults right across the island with congenital heart defects.
"The Minister has the power and the political support within the Assembly to move positively on these matters, and we hope that he has the willingness to deliver."