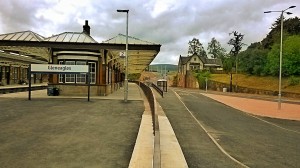 LOCAL company Whitemountain, part of the Lagan Group, is ready to tee off just in time for the prestigious Ryder Cup at the world class Gleneagles hotel in Perthshire, Scotland, thanks to its completion of a £3 million construction project.
Whitemountain provides quality services in the construction, quarrying and civil engineering sectors. The Gleneagles contract involved a large team based on site between November 2013 and July 2014.
This £3m scheme from Whitemountain alongside other upgrades brings a total of £10m investment and improvement to the local area.
Mark Kelly, Managing Director of Whitemountain commented on the success of the project; "We were delighted to be appointed given Northern Ireland's recent success in the golfing world. The project involved the construction of a new 1km road and associated works in preparation for the Ryder Cup.
"Our team of experts completed a new link road from the train station to the nearby A9 dual carriageway as well as the widening of an existing roundabout.
"We were also able to upgrade the existing car park at the local train station providing around 100 spaces including cycle tracks and a bus turning area.
"This new more accessible car park also involved the installation of a drainage system, attenuation tank and the removal of a 21 metre footbridge that had previously connected two listed buildings."
Together, these improvements have boosted public transport use whilst providing safer access to a number of local roads. The investment in road and rail infrastructure around Gleneagles has delivered a lasting transport legacy for local communities and visitors to the region.
Antonia Beggs, Operations Director at Ryder Cup Europe added; "We are delighted that these improvements have been put in place to help create a world–class event experience for ticket – holders.
"The 2014 Ryder Cup will bring 250,000 spectators to Gleneagles and this station access is a key component to our transport planning."