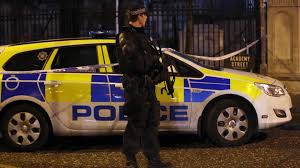 POLICE are questioning two men – aged 18 and 24 – who were arrested in west Belfast over car crimes.
Officers detained them after observing a red Ford Focus car being driven at speed along the Springfield Road, Belfast, in he early hours of this morning, September 18
The Ford Focus came to a halt when it struck a roundabout; the two men alighted and were apprehended by Police.
Speaking of the arrests, Area Commander for West Belfast, Chief Inspector Anthony McNally, said: "The 18 year old was arrested on suspicion of aggravated vehicle taking.
"The 26 year old was arrested on suspicion of using a motor vehicle without insurance; disqualified driving and failing to stop.
"Both men are presently in police custody helping with inquiries."