THE Northern Ireland Tourist Board (NITB) has launched its autumn campaign which focuses on the 'real people' and authentic experiences that make Northern Ireland the perfect destination for a short break.
The campaign is based on the real-life journeys of visitors who come to Northern Ireland on a short break to enjoy a range of different activities, explained Ruth Burns, NITBs Destination Marketing & PR Manager.
"It puts some of Northern Ireland's best attractions at the forefront and records people's genuine reactions as they get to spend time enjoying them. I really think the campaign gets across the great welcome that people in Northern Ireland give to visitors and the results, we feel are very real and really engaging."
In the TV ad we see Dublin couple, Susan and Terry, visit St George's Market, Ox restaurant, Europa Hotel and the Lyric Theatre for a break filled with food, events, arts and culture.
Ruth continued: "With this campaign we are seeking to position Northern Ireland as the perfect short break destination and to remind people who live here about the wealth of things to see and do especially on an autumn city break."
The places featured in the ad are St. George's Market which is one of Belfast's oldest attractions. It was built between 1890 and 1896 and is one of the best markets in the UK and Ireland and has been selected for numerous local and national awards for its fresh, local produce and great atmosphere.
The Europa Hotel is one of the world's most famous hotels located in the heart of Belfast's business and shopping district. Beautifully restored, this popular hotel offers spacious elegance and boasts many famous guests including former president of the USA, Bill Clinton.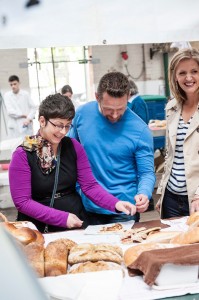 The Lyric Theatre is the only full-time producing theatre in Northern Ireland where you can watch high-quality professional theatre that is alive to the complex cultural and diverse traditions of the community. Also featured was OX, a relaxed restaurant on the banks of the Lagan with a plate glass shop front and cool interior that is gaining a reputation as a place to enjoy local produce cooked to perfection.
Ruth continued: "Not only is an autumn break in Northern Ireland great value, it's also so compact, that nowhere is further than a two hour journey by car. This means you've more time to enjoy your short break and less time spent travelling."
The autumn NITB campaign will run across television, outdoor advertising, radio, press and digital media. Web films will tell the extended story of the visitor's experiences to Northern Ireland and can be found on NITB's website www.discovernorthernireland.com where you will also find details of great short break deals from as little as £52 B&B per person sharing.