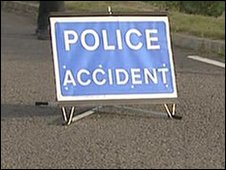 POLICE have launched an investigation after a 20-year-old man died following a road crash in west Belfast.
A motorcycle and a car were in collision on the Monagh Road in the Turf Lodge district on Saturday evening.
Officers from the PSNI's Collision Investigation Unit based at Steeple Barracks in Antrim have appealed for anyone who witnessed the crash to contact them on the 101 non emergency number.
The victim has not yet been named.
He is the 57th person to die on the province's roads this year.
This is despite a pro-active campaign by the police to try and halt the spiraling number of deaths.