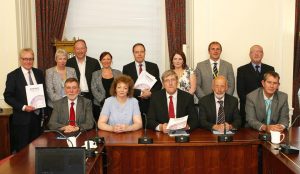 POLITICIANS united this afternoon to launch the Greater Shankill Children and Young People Zone at Parliament Buildings, Stormont.
Community and elected representatives on the Agreed Agenda Steering Group, led by Nigel Dodds MP, presented the initiative to five Departmental Ministers (Social Development, Culture, Arts & Leisure, Education, Justice and Health & Social Services) and received their endorsement.
This long term strategy will develop an integrated approach and special initiatives to help children and young people in the Greater Shankill area to achieve their educational potential and to improve their life chances. — with Jackie Redpath, Naomi Thompson, Nelson McCausland, Nicola Verner, Nigel Dodds, Betty McFerran Carlisle MBE and Edwin Poots.