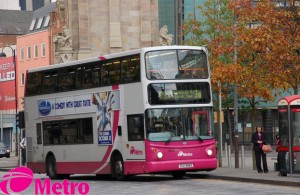 METRO and Ulsterbus drivers are to be asked by their unions to vote on proposals for strike action over pay.
Drivers had been offered a 1 per cent rise by their employers Translink.
However, this has since been withdrawn after Translink's budget was cut by £15 million by the Department of Regional Development (DRD).
The department is headed by Ulster Unionist Party MLA Danny Kennedy whose budget was slashed during the June monitoring rounds by the Stormont Executive.
Drivers will be asked by the Unite and GMB union bosses to vote on what is described as a "graduated response" to the pay withdrawal by Translink.
This will start with an overtime ban followed by stoppages ranging from one to two hours either on a daily or weekly basis.
The proposals could cause commuter disruption if the stoppages are held at peak times in the morning and in the evening if the dispute is not resolved.