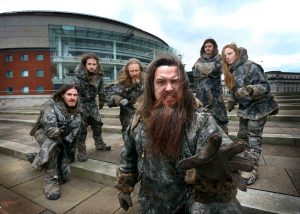 THE Northern Ireland Tourist Board (NITB) has put together a list of 10 exciting things to do in Northern Ireland during the European Heritage Open Days, September 13 and 14, when free access will be granted to over 400 properties and events.
• Armagh Planetarium Shows, College Hill, Co Armagh, September 13. Enjoy a unique experience which is quite simply 'out of this world'. Get a unique view of the world and beyond in the highly impressive digital theatre.
• Tour of Carrick-a-Rede Rope Bridge and Fishermen's Cottage, Whitepark Road, Ballintoy, Co Antrim, September 13. Cross the bridge and enjoy a truly exhilarating experience. This 30-metre deep and 20-metre wide chasm is traversed by a rope bridge traditionally erected by salmon fishermen. Visitors bold enough to cross to the rocky island are rewarded with breath-taking views.
• 'The Fall' talk, Quarry Industries, 1075 Crumlin Road, Belfast, Co Antrim. September 12. Andrew Wilson location manager for the popular BBC drama The Fall will be giving a talk and answering your questions from one of the most iconic buildings used in the filming of the hit TV series. Recommended for adults only.
• Derry's Walls Walking Tour, Derry Visitor and Convention Bureau, Co Londonderry, September 13 and 14. Enjoy a guided walking tour of the only remaining completely walled city in Ireland, and one of the finest examples in Europe. The walls, built in the 17th century, form a walkway around the old inner city and a tour is a must for all visitors.
• Peter Francis Fahy at Benburb Castle, Main Street, Benburb, Dungannon, Co Tyrone, September 14. Peter Francis Fahy combines poetry, art, music and drama to recreate two of the most magical tales from the mythological cycle of Celtic mythology. Projected on the walls of the stately Benburb castle, this event will be ideal for adults, children, and all fans of art, animation and Celtic mythology.
• Pot building demonstration, Enniskillen Castle Museums, Co Fermanagh, September 14. Delight in a wealth of history by making replicas of medieval pottery vessels such as Ulster Coarse Ware pots used in cooking at Enniskillen Castle Museums. An event suitable for all age groups.
• 'Game of Thrones' talk, Castle Ward Mansion, Downpatrick, Co Down, September 13. If you are a fan of hit TV show Game of Thrones then allow location manager Robbie Boake to tell you all about transforming a 17th century farmyard into 'Winterfell' and why Northern Ireland has some of the best film locations in the world.
• Living Histroy at Dunluce Castle, Dunluce Road, Bushmills, Co Antrim, September 13. Come to the iconic Dunluce Castle and enjoy a day of 17th century revelry – meet the ladies and gentlemen of the castle and join in with various games and music.
• Glastry Farm Ice-Cream talk, Slieve Donard Resort & Spa, Newcastle, Co Down, September 14. Will Taylor will give a talk on the history of Glastry Farm, its products, and the importance of local produce. Guests will be able to sample various ice creams and sorbets from the Glastry Farm Ice-Cream portfolio. Complimentary refreshments will be provided on arrival.
• Belfast Civic Trust Bus Tour, Athletic Stores, Queen Street, Belfast, September 12. This tour visits Belfast's Victorian & Edwardian heritage sites, including the City Hall, St Anne's Cathedral, St Peter's Cathedral, Clonard Monastery and Queens University.
Please note some of the events require pre-booking. For more details on these and other events click on www.discovernorthernireland.com/events, visit your local tourist information centre or log onto www.facebook.com/discovernorthernireland.